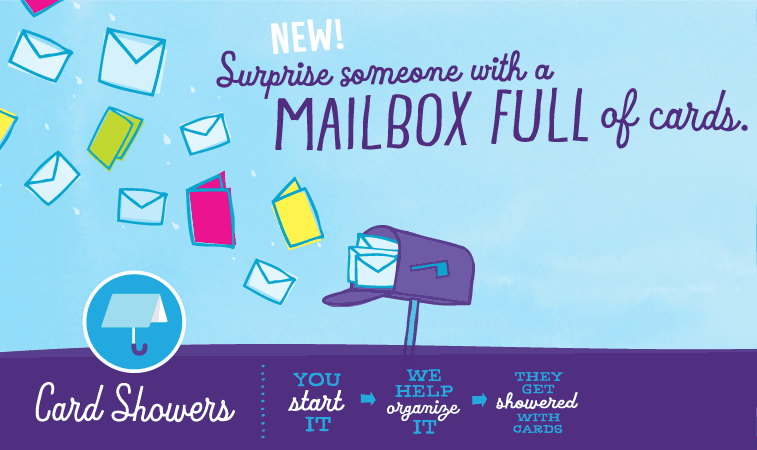 Hallmark has a wonderful way to show someone you care and it is called a card shower. In an easy, online process you can email and Facebook people to let them know you are throwing a card shower for someone special. Sp, what is a card shower? It's when a group gets together to send one person a whole slew of cards all at once. Ideally, they should all arrive on the same day so that this person's mailbox is flooded with cards. It's a lovely idea (is there a better word when it comes to a card shower?) and I was happy to organize one for my friend Jen.
The timing for Jen's card shower was perfect. There was a lot going on in her life that week. She had a CT scan, an unanticipated hospital stay, a lot of pain and more. A mailbox full of cards was the least we could do. I sent out the invitation to join me in sending a card via Facebook and email. Hallmark has a great system that is pretty effortless. You create the event on the Hallmark website, invite friends through email or Facebook and people can RSVP. Once they receive the email they can buy a card online or in a Hallmark store. They can click a drop down box telling the host that they have sent a card. I had an incredible response of over 25 people sign up to send Jen cards. By Friday, July 27 cards began to flood her mailbox. Just in time for her arrival home from the hospital.
I love this program. I participated in a much bigger version of a Hallmark card shower during Mom 2.0 this spring. It's a sweet and fun way to surprise someone, tell them you care or are thinking of them and really brighten their day through a whole network of friends and family. It prompted me to remember why I loved working at Hallmark as a teen. It was my first job and I loved how each time someone came in for a purchase it was usually to make someone's day better. It was a great way to feel and I'm glad Hallmark has picked up this tradition and carried it on in a virtual and a traditional way.
Get started on your Hallmark card shower today!
MPR Rating: Four Stars.
Disclaimer: MPR was not paid for this post. Products received are for review purpose only.  Opinions are MPR's only.