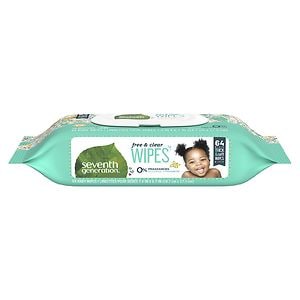 The fact that I still use baby wipes daily boggles my mind. I've been a baby wipe user and buyer since 2006.  That's seven years and counting.  I don't know how many packages that is but I'm always happy when I can get some to review.  Seventh Generation sent me their new Free & Clear baby wipes ($3.99, 64 ct.), which are made from 70% less plastic than their old wipes and are created using plant materials.
What I like about the Seventh Generation baby wipes is that they are thick and feel almost cloth-like.  They may seem a big smaller than other wipes but they can clean a whole lot more.  They are also free from not just fragrances but phthalates, parabens and any dyes or alcohol which all dry out and irritate any skin, especially sensitive baby skin.  I feel good using them in my kids snack and lunch boxes at school to clean their hands and faces and like to use them for cleaning up surfaces in my home too.  Even if the price is more than you can pay all the time having a pack here or there in your house, car, or bag is a great start to being green or 'green-er'.
Find at a Target store near you. Packaging is recyclable too.
MPR Rating: Four Stars.
Disclaimer:MPR was not paid for this post. Products received are for review purposes only.  Opinions are MPR's only.