Disclaimer:  This is a guest post by writer, Maria Losange for MPR.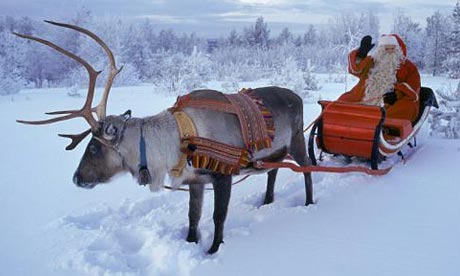 While Christmas may seem like a long way off right now, it's never too early to start planning what you'd like to do over the festive season. What better way to celebrate in style than to head for Finland and enjoy Santa's spiritual home of Lapland?
Over the holiday period, they really pull out the stops in Lapland, with so much on offer for the whole family to enjoy. Kids are bound to love being here for the atmosphere alone. With tons of snow for them to get to grips with, you might have a job dragging them away to enjoy the other attractions! But they certainly won't want to miss out.
The beauty of Lapland is its immersive atmosphere that will leave you feeling like you've really lived as one of the locals. You'll have the chance to ride in a reindeer sleigh, trek the icy wilds in snow-shoes and obviously pay a visit old Saint Nick in his authentic log cabin. And of course, you'll get to experience the Northern Lights first hand; a thrilling memory to cherish!
Depending on the length of your stay, you might be interested in travelling around a little. Lapland covers a huge area of northern Finland and there are some other great attractions within driving distance of the traditional Santa Land. The Levi Ice Gallery is a real gem and fantastic for a bit of variation. Built entirely from ice and snow, this child-friendly bar and hotel is beautifully lit with coloured LED lights to give it a really magical feel.
The Amethyst Mine in Lampivaara is also a fantastic day out. Visitors have the chance to take a tour of the area and even to dig for their own amethyst  – what a great souvenir to take home at the end of an unforgettable holiday!
If you are interested in booking your Lapland holidays in 2013, make sure you pack for cold weather. With temperatures falling as low as -20°C, it's essential to wrap up warm, especially considering most of the activities on offer are outdoor pursuits.